Are you an escort looking to advertise in Sydney, Melbourne or any other Australian city?
This can be expensive and time-consuming as the offer is big and diverse. It is hard to choose successful ways of escort advertising.
Ask established escorts and each of them will give you different advice. There's no magic formula; each escort is unique and individual circumstances should be taken into account too.
Are you going to work in a single Gold Coast suburb? Or do you plan to tour Brisbane, Perth, Adelaide and other places? Well, the answers to those questions will start helping you.
For example, the escort who offers her services in a single area may benefit from using publications that target her own region. However, the ones who tour around Australia, or the ones working in the largest cities, will probably benefit from advertising in websites with a broader reach, such as this one.
That's just one of umpteen things to consider when looking for effective escort advertising. We can't cover every scenario, so let's cut to the chase and see if Punter Planet is the right vehicle for you.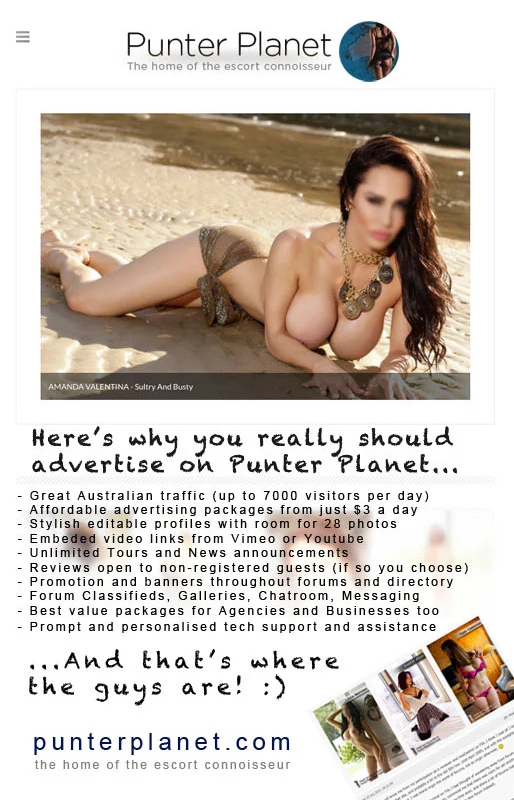 (Jump to our ad features page)
Let's take a look at Punter Planet's advertisers, particularly those who have published their profiles here for years, and see what they have in common.
Well, this is a site with a modern and stylish escort directory, and one where clients discuss and post reviews about escort services. That generally appeals to escorts whose offer can match most reasonable expectations. Those who have a sense of pride about the services they provide. The typical Punter Planet advertiser is a true professional and believes in honest advertising. She knows that word of mouth recommendations from real clients – what we call reviews – can really help her career and her bank account too. Does this appeal to you?
Naturally, we cannot provide reviews as part of our escort advertising. They wouldn't have any value. However, our packages are designed to give you visibility across our entire online community. We are so much more than just a static directory. You'll gradually enhance your presence and be able to attract clients who will tell others about you. The more hands-on you are prepared to be about your ads and news, the better it will work for you.
We are consistently the Australian escort-related website with the most traffic. That gives advertisers great exposure, and punters get the best selection of escorts the Internet has to offer.
Please step inside our site, take a look around, and do feel free to contact us. We'll be very happy to assist you.