Private Escort-October 2010-Gloria Van Vaulker (Melb Tour)
---
An Epic Encounter with the Angelic Fruitcake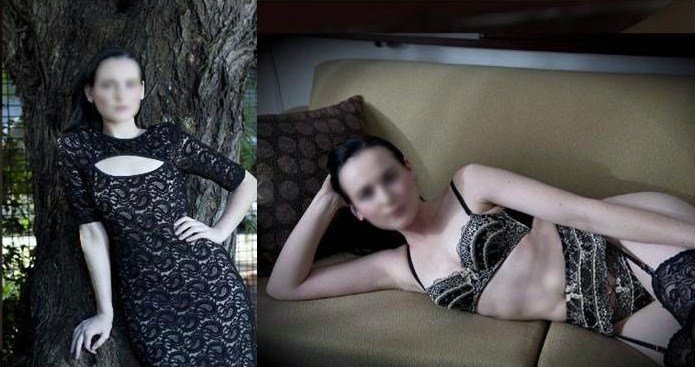 Phone Number (Please add area code): 0458 575 742
Service Provider's Email (if any): [email protected]
Link to Website or Online Ad (if any): http://www.gloriavanvaulker.com/, http://privategirls....lker_sydney.php
PCA Number if known (Victoria only): PCA# 7216 XE
Photos Authenticity: 100% Real
Advertised Hourly Rate (Pick closest): $650
Location where session took place: Victoria
Incall or Outcall (Leave blank in Victoria): Outcall to your home/hotel
Session Day: Weekday
Session Time: Evening
Estimated Age: 21 - 25
Estimated Ethnic Group: Caucasian / European Origin
Knowledge of English: Very Good
Hair Colour: Black
Hair Length: Long
Eyes Colour: Grey
Skin Colour: Pale
Height: Tall - Above 170 cm / 5'7"
Body Shape: Slim
Estimated Body Size: 8 to 10
Estimated Breast Size: AA to B (Small to Average)
Enhanced breasts?: No
Pubic Hair: All Waxed / Shaved
Any Tattoos?: None
Any Piercings?: None
Full Sex Available: Yes
Kind of Experience: Girlfriend Experience
Kissing Available: Yes, DFK (Deep French Kissing)
Blowjob: Yes, BBBJ and CIM (Cum In Mouth)
DATY / Oral On Her: Yes, without a dam
Overall Looks: Beautiful
Overall Personality: Lovely
Overall Performance: Out of this world!
I first met Gloria (formerly known as Victoria Celine) last October 2009, a couple of days before she left for New York City to pursue further studies. She was on my "To do list" but I never really found the urgency to pull the trigger until I read a farewell review written by mymuse (Thanks mate! I owe you a drink) with photo attachments. I was in awe when I saw those pictures. Even with her face blurred out, I could tell she was exactly my type, a beauty befitting a catwalk model.
Time was against me but I wouldn't be able to forgive myself if I let her slip out of the country without me having a crack at her so I made a mad rush to see her for 2 hrs. The moment I opened the door and saw her, instincts told me that spending only 2 hrs with this young hottie would be something I'd later regret. So I negotiated a 4hrs upgrade which turned out to be the best decision I've made in my punting career!
I pride myself as being a disciplined punter and follow my "To do list" to a T. The next punt I had planned for late September was a MFF threesome. However, that quickly changed when I received a PM from Gloria informing me that she'll be visiting Melbourne in late September - early October and asked if I wanted to catch up. Hell yeah! Rules were meant to be broken anyway (so much for discipline!
) so I shelved the original plan and Gloria got promoted to the top of my list. We agreed on a date/time and a 4-hr booking was locked-in.
On the day of our rendezvous, I took a half day off from work to psych myself up for the evening's showdown. I also took the opportunity to grab some chocolates for Gloria. It's been a year since we last saw each other and the anticipation was slowly building up as the time drew near.
So 6pm rolls in and I receive a text message from Gloria saying "On Alexandra Ave. in taxi. Won't be long x". My heart just skipped a beat and started palpitating wildly as I rushed to squeeze in another quick shower before she arrived. I've had one 30mins before but just wanted to make sure that I smelled really nice and that I'm squeaky clean for the main event.
Gloria arrives at my apartment wearing a classy burgundy (not sure?) coat, an elegant black body hugging lace dress with matching stockings and black high heel shoes (attached pictures showing what she was wearing the night we met). She was lovelier than I remembered a bit slimmer and looked much naughtier.
She greeted me with a kiss on the lips as we sat down on the couch. We talked about what's been going on with each other while we feasted on some Italian food that I've ordered, a fruit platter and drank Sauvignon Blanc and Cabernet Merlot one after the other.
Gloria loves to laugh and smile with her eyes; I found myself hopelessly engaged as she spoke. She has a wonderfully easy-going personality, exudes sexiness without even putting in an effort, has a welcoming feeling and is very pleasant to converse with; just a few of her many endearing qualities.
Gloria excused herself for a moment as she went away to freshen up. Upon her return she sat on my lap facing me and planted an open mouth kiss to initiate the start of what promised to be my best punt for 2010. Our kissing gradually progressed to a long and passionate DFK. Gloria is a standout kisser so it really didn't take much time for my member to spring into full attention. The pressure of her bum grinding against my cock as we explored each others body with tender kisses and arousing touches just felt amazing as it got me excited all the more.
Feeling that my cock needed some breathing room, I suggested that we retire to my bedroom and continue our lovemaking there. I quickly discarded my clothes and threw them all over the floor after which I proceeded to help Gloria ease out of hers leaving only a sexy pair of black lingerie and stockings.
As Gloria lay on the bed, I took great pleasure in gradually ridding her of her undies and stockings as my lips and tongue got busy re-acquainting with every little inch, nook and cranny of her silky smooth body. I paid close attention to Gloria's cues by observing her facial expressions and body language while I sucked gently on every sensitive spot that elicits an exclamation of approval. I made it a point to hover over her lips and engage in DFK with every chance I get. I was so turned on by this but still managed to take everything slow over an insanely long period of time. I didn't mind this at all as I had made up my mind that this night would be all about pleasuring Gloria.
Being a consummate tease, I reserved savouring Gloria's best parts for last. Goosebumps throughout Gloria's body prompted me that it was time to take the foreplay to the next level. I alternately sucked on both of her very aroused nipples while I watched her squirm with pleasure. I was making her guess which part of her body I'd lick and kiss next. While I ran my hands gently all over her legs and inner thighs, I could sense with urgency that she wanted my face badly in between her legs.
I kissed and licked my way along her inner thighs moving from one leg to the other several times but intentionally avoiding contact with her pussy. Every time I'd pass her snatch I'd just give it a gentle blow as I looked at her beautiful face. Gloria tried to sneak her pussy closer to my mouth a couple of times but I was able to back out just before she made contact. I was at it for some time until I reached the point where I could not contain myself any longer. The sight and scent of Gloria's very inviting moist snatch just inches away from my mouth was just too much temptation bear so I eventually gave in.
I started off by kissing her pussy lips round and round and slowly zeroed in on to her clit. I gently ran my fingertips to caress her nipples while I was sucking on her. Gloria then grabbed a hold of my wandering hand and guided it to her pussy and said "I want you to use your hands".
It didn't take long after the combination of my tongue and fingers inside her made their presence felt before Gloria writhed and spasmed uncontrollably until she reached a leg shaking orgasm. She looked amazingly hot as she exploded. While all this was happening, in typical Gloria fashion she was as quiet as a mouse. After an intense orgasm, Gloria experiences an almost unbearably sensitive clit and she doesn't want continued touching in that area so I slowly backed off. There's no better token of appreciation I could think of than a beautiful woman pulling you up for a very passionate DFK right after she had just experienced an earth shattering orgasm. And that was how Gloria showed her appreciation for my efforts!
After Gloria's bundle of nerves had subsided, she went on top of me and had this naughty look in her eyes as if to say that it's payback time. With Gloria now at the helm, more DFK interspersed with heaps of nipple play, BBBJ and tea bagging ensued.
Gloria's BBBJ technique is to die for! She ran her lips up and down the sides of my shaft, caressing it with her mouth. She took me deep in her mouth and pulled out towards the head while sucking. She sucked, licked and caressed the head with her lips and tongue while stroking the shaft with her hand. She massaged my balls with her lips, tongue and hands. My nipples were very sensitive and Gloria found that having them licked, sucked or touched softly can cause me to shiver uncontrollably so she did a lot of this. She stroked my shaft while softly kissing and nibbling on nipples.
Gloria grabbed a condom, slid it over my cock and mounted me cowgirl style. The sight of those magnificent and perky breasts bouncing while she gyrated up and down my cock was slowly but surely leading up to sensory overload and is starting to take me to the point of no return. I interrupted her rhythm by grabbing her ass and initiated another round of DFK while I turned her over for mish.
I took my time with my penetration while teasing both her clit and her g-spot. I varied my speed and the way I thrusted. I'd thrust really fast and make her reach her peak then stop abruptly. I tried hard so to hard delay cumming with all the control that I could muster.
Feeling that my load was already knocking at the door, I disengaged from DFK and whispered to Gloria's ear "I want to cum in your mouth". Gloria responded by saying "Go for it. I'll be ready". Upon hearing those magic words, I quickly pulled out, ripped the bloody condom and stuck my throbbing cock to Gloria's waiting mouth. She was like Mozart with my dick. She put on a twirling motion concentrated on the head of my cock as she was sucking me and the intense sensation drove me crazy to the point that I felt like electricity was flowing from my head to my toes sending tremors all over my body leaving me completely spent. This went down in my punting history books as the perfect finish ever!
After my aftershocks subsided and with my cock free from Gloria's mouth, Gloria says with that naughty smile on her face, "Was that all"?! WTF?!
That was a week's supply of jizm she just guzzled and all she can say was, "Was that all"?! To shut her up, I again went for DFK but was caught off guard as she hasn't swallowed yet. This didn't bother me at all as we snowballed for a while before she completely swallowed every last drop and chased it down with a glass of water. We kissed and spooned til it was time for Gloria to go. We went overtime even though she had a friend's birthday party to go to. This woman is definitely not a clock watcher! After we got dressed, I drove Gloria back to her hotel and kissed her goodbye.
In summary, I see Gloria as the complete package. She has the perfect combination of classic looks, charm, impeccable manners, wit, style, sensuality and that rare je ne sais quoi quality. She has evolved from being very good to a truly exceptional service provider. Now that she's back in Australia for good, I will always be the first to welcome her whenever she visits Melbourne.