La Casa de Nana - January 2009 - Grace and Andrea
---
Some may remember my shag fest at La Casa de Nana (aka Lo de Nana) from a few years ago. That was an almost ideal situation since I was staying in the region and was able to return night after night to make the most out it. Last night I had the chance to revisit this place again but the time I had to do so was very limited. Suffice to say that I needed to leave Maldonado (the town where Nana's is located) at 11:10 pm by bus. Unfortunately this place only opens at sunset and I was unsure about an exact time. Somehow I had thought that it opened at 8pm in summer.
I was in Punta del Este which is not far from Maldonado, and at eight I got into a cab and asked the driver if he knew if Nana's was open (it was a given that he knew where it was as all taxi drivers in Punta del Este do). He wasn't sure but he thought so and off he went. When we got there 20 minutes later, the gates weren't completely open. The sign said "open from 9pm to 5am". The friendly cabbie got off the car to check for me what the case was and came back as I saw a girl (not that attractive) arrive. When the cabbie came back he told me that it was still closed but that three girls were inside and happy to see me if I didn't start wandering around. To be on the safe side I decided to keep going and come back at 9pm. So I asked the driver to take me to the town square instead where I had something to eat while I waited.
When I returned, it was open. I had to leave a bag I was carrying with the bouncer yet I took my camera with me where I managed to take some pictures of the place when no-one saw me. In fact most doors were still closed and so remained even when I left at 10:30pm. It was a shame I had so little time because this place doesn't fully take off until around midnight. The number of guys wandering the maze-like corridors of Nana's was much bigger than the number of girls open for business. Also, some say that the best girls there work only in summer time, however, they start fashionably late; so I probably missed them.
One of the first girls I saw was Andrea, a very young and friendly brunette, who probably was one of the three girls available when I arrived while they were still closed. She was cute but I just needed to see more before sealing a deal with her (which later on I did). I kept walking and walking until a door at the end of this corridor you see below opened.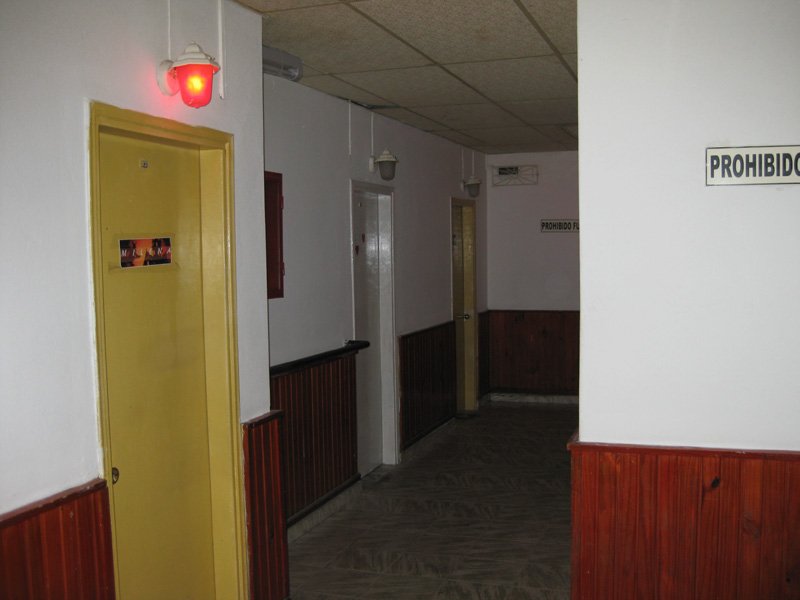 (One of the many corridors at Nana's. Grace's room was the one opposite the last door you see)
There was Grace; a tallish blonde, hazel eyes, B or C cups, size 10 and in her mid thirties. As soon as we said hi, I could tell that Grace was a good choice because she was friendly and among other things, she didn't seem to mind my hands resting on her bum while we discussed the prices. In the end I went for the "completo" service, which includes covered oral, sex and Greek, albeit all of that in a total period of 15 minutes. There was a 30 minutes options too but I wanted to squeeze in another punt, so this time it was me the one in a bit of a rush. The price for the "completo" was 900 Uruguayan Pesos (AUD $50). You may be able to get that probably for 800 Uruguayan Pesos, but I think the 100 difference was because she knew I was from overseas (that's only 6 bucks anyway).
After a quick wash at the basin (no showers over there), it was a pleasant surprise to see that Grace didn't mind a bit of kissing; which certainly helped as with 15 minutes available the condom comes on almost straight away. Funny how your mind adjusts to the short program too. So, obviously the action started with a CBJ, not a bad one and soon Little AJ was ready for action. Grace mounted on top for some Cowgirl. It felt pretty good and after that we changed to doggy where we had fun with the mirrors. She went down on her tummy, and as I was ready to finish with some backdoor action, she added a fair bit of lube on her and the successful finale was achieved perfectly on time. We even had time for a couple of happy snaps with my camera (that for obvious reasons I don't include here).
After kissing Grace goodbye, I kept walking around in order to find my second (and final) punt for the night. Not many more doors had opened and so I bumped into Andrea again. She is probably 19 or 20, brunette, brown eyes, perky B cups and quite petite, so a good contrast with Grace. I asked her about her service and she didn't offer Greek; she said that she was so tight anyway that I wouldn't miss it. And so I went in with her as she was the best offer available at only 700 Pesos (AUD $40).
The brief session pretty much followed the pattern of the previous one, CBJ, Cowgirl, Doggy, yet it was finished with straight Caterpillar. She also provided some DFK. Again, I had no problems at all coming again in such a short period. She also let me took a couple of photographs but she asked me not to make them public.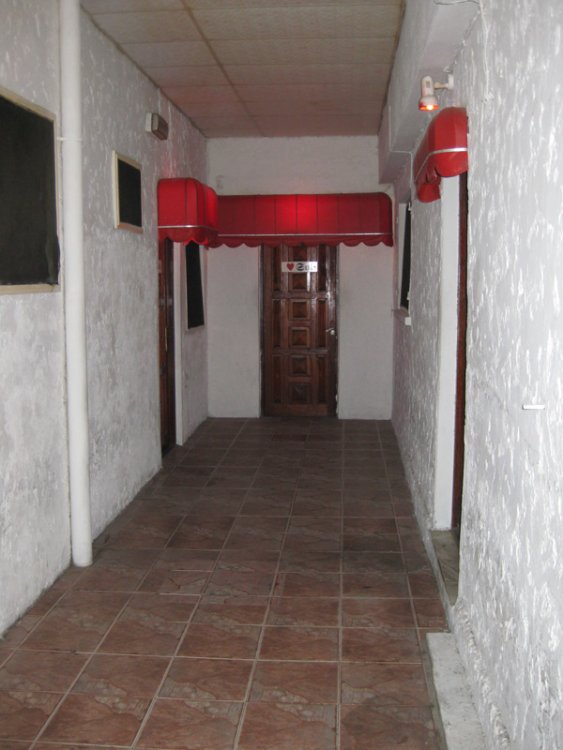 (Another corridor at Nana's. They have 33 rooms in total)
All in all, a good time had for a grand total of AUD $90 and I only wish I had more time to keep going. Nana's is definitely for the smorgasbord experience (as opposite to First Class in Montevideo where albeit more expensive, it allows for a more intimate experience). In any case, I would return if I could but that won't probably happen during this trip.