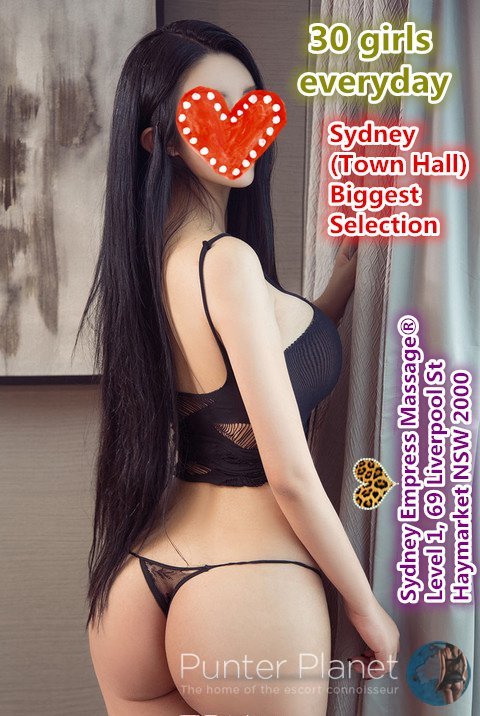 Address: Level 1, 69 Liverpool St, Haymarket 2000
Our sexy and Exotic Girls:
Everyday we have around 30 girls, around 200 girls a week, 18-22yo cute, beautiful high class and professional Uni Girls, Office Ladies, models, international girls, Asian and Non-Asian girls from Australia, Europe, South America, Africa, India, Lebanon...... and Asian from Japan, Korea, China, Taiwan, Hong Kong, Singapore, Thailand...... All our girls are strictly selected and trained, and new faces join our team all the time. They dress up as nurses, Uni-students, air hostess, maid, office lady wearing sexy uniforms with soft smiles on our faces to provide best professional sexy massage services to you, release your stress after your tight work.
Our Massage Services:
All our girls are not only young sexy and pretty, but also have professional massage skill and professional personality to satisfy you.
At Sydney Empress Massage, even our receptionists are strictly selected and trained, have a strong sense of duty to assist with making sure you are satisfied and happy. We focus to pamper you from head to toe with care, treating you just like "an emperor with the utmost enjoyment and care". We aim to provide dream place where there are only highest class dream girls massage for you, and promise never upset you every time you visit.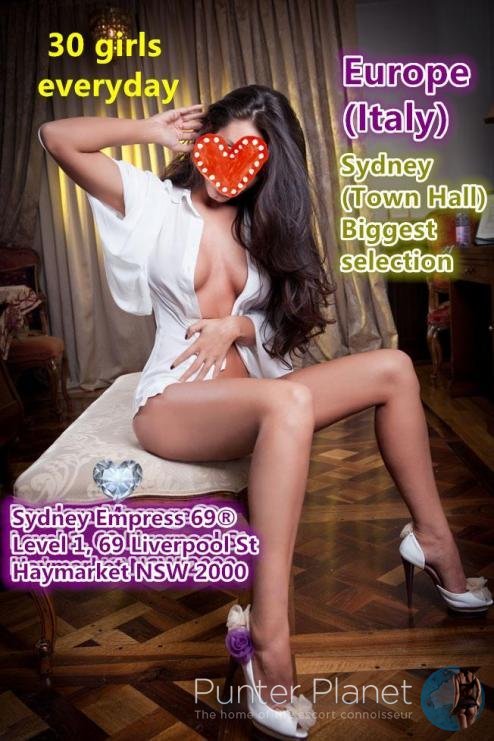 OUR AVAILABILITY
Open 7 days (Open all public holidays)
Working Hours
| | | |
| --- | --- | --- |
| MON: | 10:00 AM | 6:00 AM |
| TUE: | 10:00 AM | 6:00 AM |
| WED: | 10:00 AM | 6:00 AM |
| THU: | 10:00 AM | 6:00 AM |
| FRI: | 10:00 AM | 6:00 AM |
| SAT: | 10:00 AM | 6:00 AM |
| SUN: | 10:00 AM | 6:00 AM |
Session Place: Incalls And Outcalls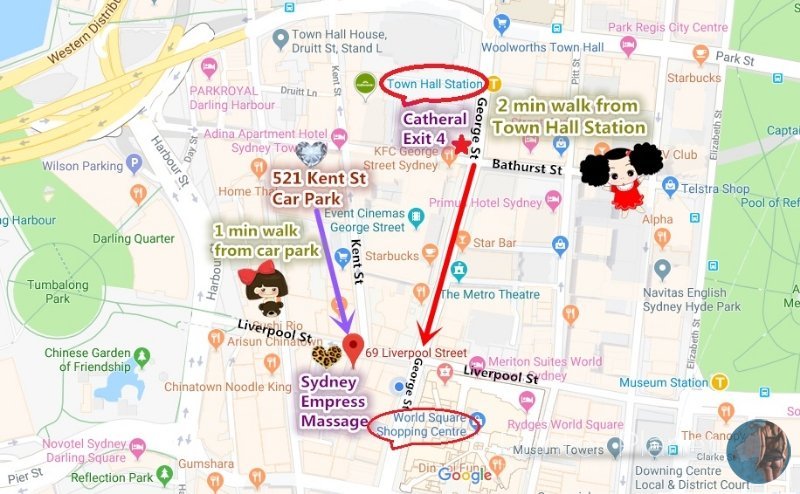 Dear my lovely clients,

We've reopen everyday now. Very happy to see you lovely guys soon!
 
Welcome to Sydney Empress Massage - the hottest, biggest and popular legally licensed nude massage studio in Sydney, this is the best place for you to get the perfect combination remedial massage, erotic massage with escort services at definitely most luxurious environment.
We are located in the most convenient location in Sydney, just 2 min walk from Town Hall Station, near 3 monkeys pub, near World Square, Cinema Car park just 50 meters away. We provide remedial massage, full body oil massage, relaxation massage, nude massage, erotic massage, Double services, Lesbian Double, Couple Services, Role Play, Dress Up, Group party, Escort Services with around 30 girls everyday, around 200 sexy gorgeous masseuses every week. With us, you will enjoy the most luxurious environment, highest quality massage services and most professional personality.
Our Luxurious Peaceful Private Studio:
Our shop is the biggest and most modern luxurious place with 20 rooms and a large selection of international girls in city with a relaxing peaceful atmosphere. Whole day Air Conditioned. The high class stationary massage tables, luxurious beds, sofas, furniture, massage oil are professionally manufactured. Each room is modern and spacious, and contains shower facility. Couple rooms also available. All clients will enjoy a relaxing private room with sensual lighting and very romantic classical music will accompany with you during massage service.
Especially, all the rooms are individually designed with different styles of high class, fashionable and individually designed furniture in 20 rooms. Every time your visiting, we will provide you different dreamlike experience with many different girls in different rooms. We aim to provide you excellent experience which you can only acquire from our shop.
Please come to visit the highest class and biggest shop in Sydney CBD, enjoy the best popular and big selection massage experience!
Contact No:
0451 009 669
0451 079 669
Our studio address:
Level 1, 69 Liverpool St, Haymarket NSW 2000
(If you use GPS or Google, Please type Haymarket as the suburb. Do not type Sydney as the suburb, otherwise it will go to wrong place.)
Important tips to help find us:
* 2 min walk from Town Hall Station.
* In the corner of Liverpool St and Kent St. Near 3 monkeys pub. Near World Square.
* If you drive, you can park on the street or Cinema Car park on 521 Kent St. And then walk 50 meters to our shop.
For more details, please visit our website: www.massagecbd.com.au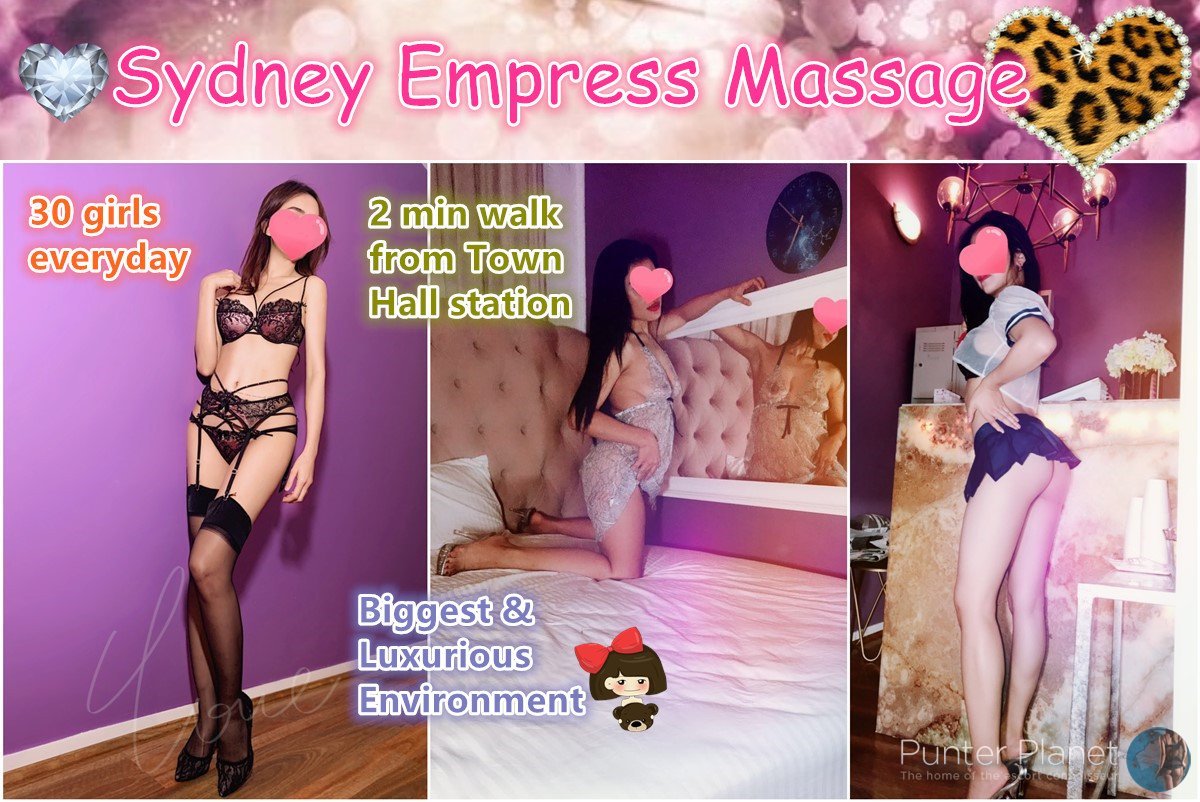 OUR RATES
Our Prices: (EFTPOS available, 10% surcharge. Also, ATM just in our building.)

Remedial Full Body Massage
30 mins---------------------$45
45 mins---------------------$65
60 mins---------------------$75
Remedial & Nude Massage
30 mins---------------------$95
45 mins---------------------$115
60 mins---------------------$130
90 mins---------------------$220 (If nothing special, we will arrange 2 girls for you. Each girl does 45 min, make sure you get more fresh & quality service)
120 mins--------------------$250 (If nothing special, we will arrange 2 girls for you. Each girl does 60 min, make sure you get more fresh & quality service)
Double Girls Massage
30 mins---------------------$180
45 mins---------------------$220
60 mins---------------------$250
Escort (Outcall) Price:
Remedial & Nude Massage:
60min------$250
120min----$450
Silver class Full Services:
30min------$250
60min------$300
90min------$450
120min----$550
Diamond class Full Services:
30min------$300
60min------$350
90min------$500
120min----$650
Overnight (include 8 hours)---$2000
-- extra $30 taxi fee for more than 10km from Sydney CBD
Additional Services
Your special order Uniforms------ + $30
Standard selebritee (sexy stocking)---- + from $10
Special selebritee (sexy stocking)---- + from $20
Lesbian Double----- + from $80
Role Play------ + from $50
Couples-------- depend on how to join
and many more